Meet Dr. Cole Sheehan
Carrying on a Family Tradition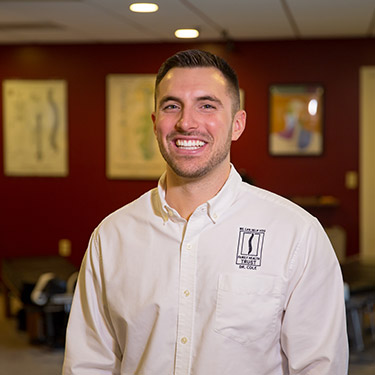 "I was raised in a chiropractic office. My dad has been a chiropractor for nearly 40 years. Growing up, I saw the miracle stories of his patients. They'd crawl in, then be able to walk out." Though Dr. Cole considered becoming a surgeon, he decided on chiropractic. It gave him the ability to help people using just his hands. Dr. Cole chalks up his good health and lack of injuries to being adjusted regularly.
Expertise in Natural Health and Wellness
Dr. Cole first attended the University of Minnesota Duluth. Then, he went on to Life University in Marietta, Georgia. There, he studied with influential professors who taught him the importance of being thorough with his patient care. Dr. Cole earned a Doctor of Chiropractic, then joined his father at Family Health Trust Chiropractic Center.
"I love helping people. One of my favorite stories is about a patient who came in using a cane and wearing a knee brace. I did an examination and took X-rays to determine the best treatment. She returned for her next visit holding her cane, and said, "I don't need this anymore!"
Dr. Cole takes regular continuing education courses. He is Fascial Movement Taping (FMT) certified. The techniques he utilizes include manual and instrument-based methods. With many tools available, he can be sure to find what suits you.
Fascinated by Structure and Function
In his spare time, Dr. Cole is usually tinkering with a motor. If there's a way to rebuild it, he'll do it! He likes motorcycles, snowmobiles, cars and jet skis. His analytical nature comes in handy when he looks at the mechanics of a spine. Any chance he gets, he rides his Ducati Monster 1200.
With a love of the outdoors, he enjoys hiking, camping, fishing, going to Canada to relax, playing basketball, working out and reading. His favorite author is Gary Paulson, a Minnesota author known for his book Hatchet. Dr. Cole read it as a child and has loved it ever since.
CHIROPRACTIC CARE »
Get to Know Us Better
We welcome the opportunity to discover whether chiropractic is right for you. Contact our team today to schedule a complimentary consultation! We'll sit down with you to discuss your concerns and if we think we can help you.

Chiropractor Minnetonka | (952) 933-4427